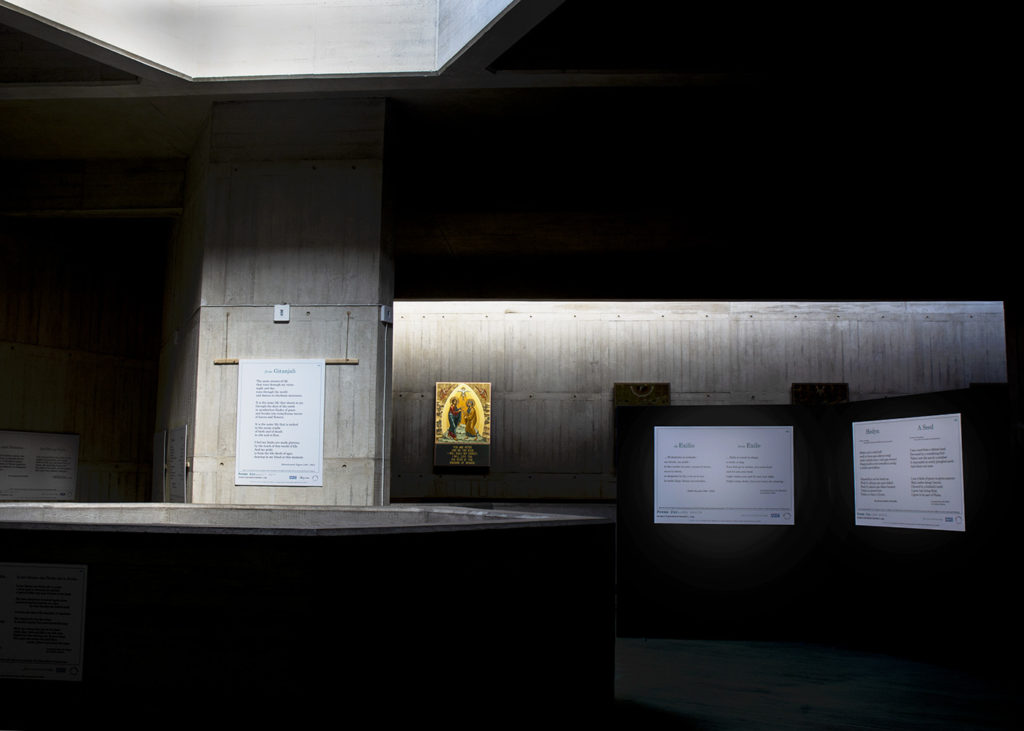 Clifton (Roman Catholic) Cathedral was built in a Bristol suburb in the 1960's and 70's. You can find it near the Brunel suspension bridge, looking massive and unexpected.
In the Spring of 2019, the cathedral played host to an exhibition of poems selected from the Poems for…the Wall collections. Most of the poems were bilingual, taken from the project's One World collection, and these were greatly enlarged, some to AO size, most to A2. But a significant number came from the mental health collection – Poems for Self at Sea – and most of these were shown at A4 size in display cabinets.
The exhibition was open for a month and was well attended, chiefly by the cathedral's own (large) congregation, but students from local language schools also showed interest.
The setting could not have been more striking or more appropriate. On first seeing the exhibition, someone exclaimed that it was like seeing a modern day book of psalms displayed up there (the poems were set out on a balcony) – all those languages, that shared eloquence and openness of spirit.
Some remarkable photographs were taken of the exhibition. You can find a series here on Google Photos. If you are on Facebook, you can the same and a few more pictures here. In both of the series, the first set photographs mostly gives an overview. Later, you can see close-ups of some of the individual poems.